Ben Schrecongost ('22)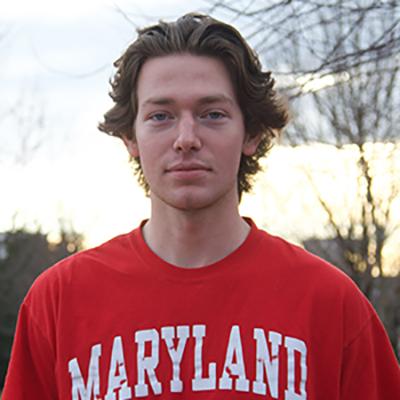 Ben Schrecongost, from Kent Island, MD, reflects on his experience as a student and peer mentor in Carillon Communities. Ben, a mechanical engineering major and leadership studies minor, participated in the Visualizing Knowledge community.
What made you decide to join Carillon Communities?
I was looking for something to kickstart my college experience and help me get involved right away. I also knew I wanted to diversify my learning and make connections with other students, including people outside my engineering major. I loved Carillon so much that I became a Carillon ambassador and later a peer mentor, and I will continue to seek opportunities to be involved with the program.
How has being in Carillon influenced your time at UMD? 
Carillon gave me a community and encouraged me to get more involved in student organizations on campus. I formed bonds that cannot be broken -- my current roommates, many of the people I study with, and some of my best friends are people I met in Carillon. It was refreshing to have a non-engineering class that helped me grow as a person and learn content I can transfer to my major. 
What did you gain from your experience as a peer mentor?
My own peer mentor was able to help me figure out so many things on campus and I wanted to do the exact same thing for students. Being a peer mentor is the most valuable thing I've gained from Carillon. Not only is it great to put on my resume, but it was an opportunity to practice leadership, take on some important responsibilities, and gain knowledge I can apply anywhere!
What advice would you give to someone considering joining Carillon? 
If you see yourself as someone who wants to grow as a person, build your resume, and have a great college experience, go for it! Joining Carillon is one of the best decisions I've made. The connections and creative problem solving skills I gained are very valuable things I will take with me to graduation and beyond. Whether or not you have decided on your major, you will learn content in Carillon that can be anywhere. It's such an easy way to get involved and I highly suggest that people join!