Tytrice Faison ('21)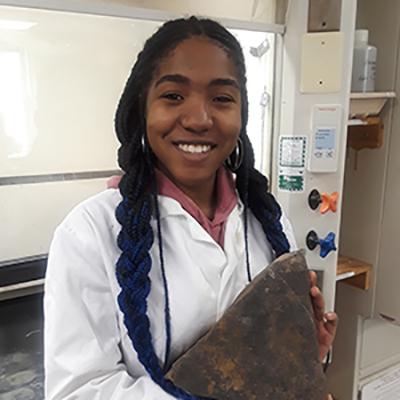 Tytrice Faison, a geology major and astronomy minor, discusses her participation in the Once and Future Planet Carillon Community.
What did you gain from being in Carillon Communities? 
Being part of Carillon Communities was a great experience for me because I was able to meet tons of new people within the first week of classes. I was mostly influenced by the leader of the Once and Future Planet program, Dr. Alan Jay Kaufman. I was a prospective engineering student, but I did not know exactly where I wanted to take my studies. Being a part of Carillon helped me to find a course of study that I am truly passionate about! 
What was most surprising about your experience in the Once and Future Planet Community? 
Working with Dr. Kaufman opened my eyes to a whole new realm of science that was intriguing and brought me to where I am today! After I completed the Once and Future Planet course, I soon became a lab assistant in Dr. Kaufman's stable isotope lab, where I continue to hone the skills needed when I graduate and enter the field.
What advice do you have for students considering joining Carillon? 
I recommend Carillon because you are bound to meet comrades who will accompany you in your studies and you will learn skills that benefit you in whatever field you choose. You may even find a new field that interests you!