Vishal Chalam ('22)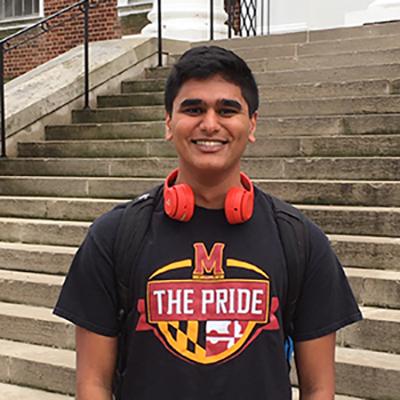 Vishal Chalam, a mechanical engineering major from Hillsborough, New Jersey, reflects on his time in Carillon Communities. Vishal participated in the Weather and Climate community.
What made you decide to join Carillon Communities?
I didn't know many people coming in [to the University of Maryland], and I didn't have any roommates lined up. I thought a living learning community would be a good way to get a jumpstart on that.
How do you feel Carillon has helped you adapt to the college environment?
All of my best friends at UMD are other Carillon students who lived on my floor freshman year. I've made some solid bonds! I even came back to Maryland over the winter break to celebrate the new year with my friends from Carillon. 
What is the most valuable thing you have learned from your Carillon experience?
I learned that not everything you take in college is defined by your major. Doing something not related to your major can help spark a new hobby or interest. You can learn a lot about something that may be obscure, but connects to your major in unexpected ways. My Carillon course, Weather and Climate, was totally different from what I expected, but it turned out to be my favorite class that semester. 
What did you gain from your experience as a peer mentor? What were you able to offer students? 
I was able to really show the positive impact of Carillon on my own life, such as making great connections, and encourage my students to meet and connect with people. It was really cool to see the students in my class become closer with one another, just like what happened with my own class. 
What advice would you give to someone considering joining Carillon? 
Give it a chance. You get to be in classes with your friends. That makes it fun to study and work together!